Wednesday, Midnight to 3:00 a.m.
Hosted by "The Witch Doctor"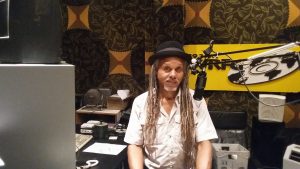 "The Witch Doctor," Akhenaten Amen'Ra S'L'M-Bey aka John Settles-Bey, heard the message of love and answered the call to minister faith, hope, and love, for the healing and upliftment of humanity. Seizing the opportunity of a platform for his ministry, for nearly forty-years Akhenaten has broadcasted globally through the air waves and in lectures. Akhenaten currently serves his "glocal" community in a thirty-two year tenure at WRFG 89.3 FM/Atlanta providing not just entertainment, but also his coined terms, edutainment, teachertainment, mentaltainment, empowertainment for your innerattainment. Ensuring a voice for Moorish-Americans, through independent media, featured topics include, Health & Wellness; Spirituality; Moorish Science, Esoterics; Ethno-History & Culture of the Moors-African-Asiaitcs; Civics; and Social-Economical-Political Affairs in a medley of progressive information & hand-picked quality music, underscoring independent music. Special feature with WRFG Volunteer and Night Watch Expressions' Resident Certified Holistic Health & Life Coach, Versandra Jewel Kennebrew, on our Health & Healing Chronicles segment.