05-21-17 Route 66 Playlist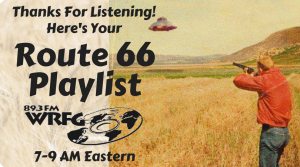 A rainy roll down Route 66 this week as we celebrated Big Joe Turner​'s 106th birthday, and gave a nod to Sun Ra​ on his 103rd.
Join us next Sunday from 7:00 to 9:00 a.m. on Atlanta's WRFG 89.3 FM​, streaming worldwide via wrfg.org.  In the meantime, keep watching the skies!
WRFG Route 66​ Playlist for Sunday, May 21, 2017
Host: John
Birthdays:
Big Joe Turner, born Joseph Vernon Turner, Jr. in Kansas City, Missouri on May 18, 1911
Sun Ra, born Herman "Sonny" Poole Blount in Birmingham. Alabama on May 22, 1914
Song – Artist – Album or First Release
Saturn – Sun Ra – Jazz In Silhouette (1958)
We're Gonna Rock – Gunter Lee Carr (Cecil Gant​) – Decca Records (1952)
Spider Sent Me – Paul Hucklebuck Williams​ – Savoy Records (1948)
Don't Take Everyone To Be Your Friend – Sister Rosetta Tharpe​ – Decca Records (1952)
Cherry Red – Big Joe Turner – The Boss Of The Blues (1958)
The Boys Are Back In Town – Laura Tate​ – Let's Just Be Real (2017)
Saturday Night Fish Fry – BB King​ – Let The Good Times Roll: The Music Of Louis Jordan (1999)
I Sold My Heart To The Junkman – Etta Jones​ – RCA (1947)
Dinah – Big Bad Voodoo Daddy​ – Louis Louis Louis (2017)
Just A Dream On My Mind – Count Basie, Big Joe Turner, & Eddie "Cleanhead" Vinson​ – Kansas City SHout (1980)
Pinetop's Boogie Woogie – Pinetop Perkins​ – Sun Records (1953)
The House Of Blue Lights – Ella may morse​ – Capitol Records (1946)
Sidecar Mama – Adrianna Marie​ & Her Roomful Of All Stars – Kingdom Of Swing (2017)
Last Night – Big Joe Turner w/ Roomful of Blues​ – Blues Train (1983)
No More Alcohol – Kid Ramos​ – Kid Ramos (1999)
Juiced – Billy "Red" Love (released as Jackie Brenston) – Chess Records (1951)
Killing Jive – The Cats & The Fiddle – Bluebird Records (1939)
My Real Gone Rocket – Jackie Brenston & His Delta Cats​ – Chess Records (1951)
Rudy's Rock – Bill Haley & His Comets​ – Decca Records (1956)
Big Boys – Chuck Berry​ – Chuck (2017)
Cherry Wine – Nancy Wright​ – Playdate! (2016)
Way Back Home – Steve Krase​ – Should've Seen It Coming (2017)
(Everyone Has Someone) But All I've Got Is Me – Nat King Cole​ Trio – Capitol Records (1947)
Long Skirt Baby Blues – T-Bone Walker – Black & White Records (1948)
Flip, Flop, & Fly – Count Basie & Big Joe Turner – The Bosses (1974)
Good News – Ronnie Earl​ & The Broadcasters – Good News (2014)
Boogie Woogie Country Girl – Candye Kane​ – Burlesque Swing (1992)
I've Got A Woman – Ray Charles​ – Atlantic Records (1954)
Have You Got The Gumption – Louis Jordan​ – Decca Records (1947)
But Officer! – Cliff "King" Solomon – Okeh Records (1953)
(sign off)
Tag (You're It) – Little Charlie & the Nightcats​ – Nine Lives (2005)