WRFG Route 66 Playlist For 5-28-17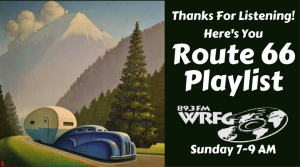 Well it finally happened, I broke the radio station. Not really, but we did suffer a pretty bad power outage about an hour and 45 minutes into Route 66.
There was also sad news the share: We lost Gregg Allman on Saturday. Word is he died peacefully at his home in Savannah, gone too soon at 69.
With that said, here's your WRFG Route 66 Playlist for Sunday, May 28, 2017:
Alleged Host: John
Birthdays: T-Bone Walker – May 28, 1910
Junior Parker – (possibly) May 27, 1932
Song – Artist – Album or First Release
M Squad Theme – Count Basie – The Music From M Squad (Soundtrack) (1959)
Oh Babe – Roy Milton – Specialty Records (1950)
Bop Till You Drop – Mike Goudreau & The Boppin' Blues Band – Sweet Blues (2016)
I Didn't Like It The First Time (The Spinach Song) – Julia Lee & Her Boyfriends – Capitol Records (1949)
Next Time You See Me – Junior Parker – Duke Records (1956)
Drivin' Wheel – The Levon Helm Band – The Midnight Ramble Sessions, Vol. 3 (2014)
Let's Just Be Real – Laura Tate – Let's Just Be Real (2017)
T-Bone Shuffle – T-Bone Walker – Atlantic Records (1955)
Duke's Blues – Duke Robillard – Duke's Blues (1996)
Deacon Jones – Louis Jordan – Decca Records (1944)
The Deacon Move In – Little Esther (Phillips) & The Dominoes – Federal Records (1951)
Fare The Well, Deacon Jones, Fare The Well – Bull Moose Jackson – King Records (1948)
Seven Days – Junior Parker – Duke Records (1961)
Love My Baby – Paul Burlison w/ Kim Wilson – Train Kept A-Rollin' (1997)
Choppers Dream – Rockabilly Kitty Rose – Gotta Wind Down! (2017)
Lady B. Goode – Chuck Berry – Chuck (2017)
Strollin' With Bones – Mike Sanchez – Women & Cadillacs (2012)
The Honey Dripper – Charles Brown – Honey Dripper (1996)
Dreams – Gregg Allman – The Gregg Allman Tour (1974)
My Idea About You – Pee Wee Crayton – Imperial Records (1955)
The Old Feeling Is Gone – Roy Gains – I Got The T-Bone Walker Blues (1998)
Stormy Monday Blues – T-Bone Walker – Black & White Records (1947)
Mystery Train – Little Junior's Blue Flames (Junior Parker) – Sun Records (1953)
Train Train Blues – Blues Caravan featuring Zila May – Coral Records (1952)
All Night Long (Night Train) – Rusty Bryant – Dot Records (1952)
One Way Out – The Allman Brothers Band – Eat A Peach (1972)
(Power failure)