Your Route 66 Playlists for July 16 & 23, 2017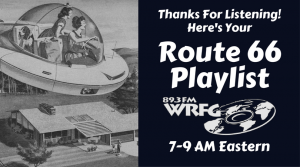 I've been too busy laundering money for the Russian mob to post the Route 66 playlist for the last couple of shows.  So, I'm going to do it now before Boris and Natasha call again.
Celebrate #WRFG's 44th birthday with a gift to our Summer Pledge Drive. Call 404-523-8989 or go to the wrfg.org homepage for details. Thanks.
Here's your WRFG Route 66 play list for Sunday, July 23, 2017.
Host: John
Song – Artist – Album or First Release
Apollo Theater Jump  Earl Bostic – Gotham Records (1949)
Texas & Pacific – Louis Jordan – Decca Records (1947)
Knock Me A Kiss – Big Bad Voodoo Daddy – Louie Louie Louie (2017)
I Want To Hug Ya, Kiss Ya, Squeeze Ya… – Bull Moose Jackson – King Records (1955)
Big Town – Roy Brown – De Luxe Records (1951)
Buzzin' – Slim Harpo – Excello Records (1963)
The Boys Are Back In Town – Laura Tate – Let's Just Be Real (2017)
I Have News For You – Roy Milton – Specialty Records (1951)
All Night Long (Night Train) – Rusty Bryant – Dot Records (1954)
Crazy 'Bout An Automobile – Billy "The Kid" Emerson – Vee Jay Records (1955)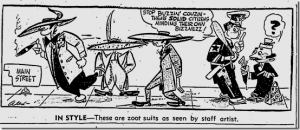 Zoot Suit Riot – The Cherry Poppin' Daddies – Zoot Suit Riot (1997)
Flying Home – Jay Geils, Duke Robillard, & Gary Beaundoin – New Guitar Summit – Shivers (2008)
Eyesight To The Blind – The Larks – Apollo Records (1951)
Gabbin' Blues – Big Maybelle – Okeh Records (1952)
Baby, I Want To Be Loved – The Nighthawks – All You Gotta Do (2017)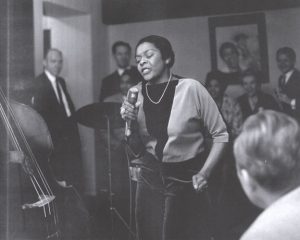 A Slick Chick (On The Mellow Side) – Dinah Washington – Mercury Records (1946)
You're Driving Me Crazy (What Did I Do?) – Big Joe Turner – Atlantic Records (1958)
A Girl's Gotta Have A Little Pleasure – Donna Greene & The Roadhouse Daddies – A Girl's Gotta Have A Little Pleasure (2008)
Big Boys – Chuck Berry – Chuck (2017)
The Things I Used To Do – Guitar Slim – Specialty Records (1954)
Too Many Men – Ruth Brown – Atlantic Records (1953)
Poor Me – Vintage #18 – Grit (2017)
Nervous Man Nervous – Big Jay McNeely – Blowin' Down The House (2016)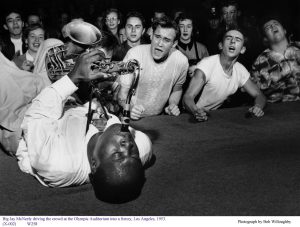 Hey Ba Ba Re Bop – Lionel Hampton – Decca Records (1945)
Market Place – Etta James – Modern Records (1957)
Big Chief – Allen Toussaint – American Tunes (2016)
I'm Just A Lucky So & So – Mr. T & His Band (Titus Turner) – Aladdin Records (1949)
Down The Road Apiece – Amos Milburn – Aladdin Records (1947)
Hittin' On Me – Buddy & Ella Johnson – Mercury Records (1953)
(sign off)
Tag (You're It) – Little Charlie & The Nightcats – Nine Lives (2005)
Here's you WRFG Route 66 playlist for Sunday, July 16, 2017.
Hosts: John & Frankie Lee
Birthdays:
Little Charlie Baty – July 10, 1953 in Birmingham, Alabama
Claude & Clifford Trenier – July 14, 1919 in Mobile, Alabama
Screamin' Jay Hawkins – July 18, 1029 in Cleveland, Ohio
Song – Artist – Album or First Release
90 MPH – Sax Gordon – You Knock Me Out
Safronia B – Calvin Boze – Aladdin Records (1950)
Hurry Hurry Baby – Roy Brown – King Records (1952)
Get A Real Job – Mike Goudreau & The Boppin' Blues Band – Sweet Blues (2016)
Bonaparte's Retreat – Margie Day with the Griffin Brothers – Dot Records (1951)
Amos' Blues – Amos Milburn – Aladdin Records (1946)
Way Back Home – Steve Krase – Should've Seen It Coming (2017)
One O'Clock Jump – Jack Parker & Etta Jones – Decca Records (1954)
How High The Moon – Little Charlie & Organ Grinders Swing – Skronky Tonk (2016)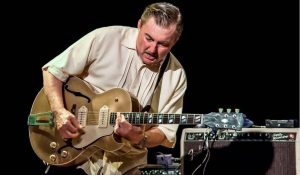 Rockin' Is Our Business – The Treniers – The Girl Can't Help It (Soundtrack) 1956)
We Want A Rock & Roll President – The Treniers – Vik Records (1956)
I Don't Want To Cry – Big Maybelle – Savoy Records (1957)
I Don't Need No Doctor – Ray Charles – A Portrait Of Ray (1968)
(You Dyed Your Hair) Chartreuse – Louis Jordan – Decca Records (1950)
Blues For The Red Boy – Todd Rhodes – Sensation / King Records (1948)
A Lotta What You Got – Dana Gillespie – Blues It Up (1982)
For You My Love – Nellie Lutcher & Nat King Cole – Capitol Records (1950)
Wonderful Woman – Chuck Berry – Chuck (2017)
Lonesome Whistle Blues – Nick Curran & The Nightflies – Doctor Velvet (2003)
Go! Go! Go! – The Treniers – Okeh Records (1951)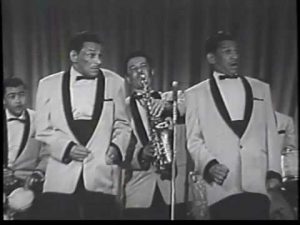 Rocket 88 – Jackie Brenston – Chess Records (1951)
T-Bone Boogie – Adrianna Marie – Kingdom Of Swing (2017)
My Next Ex-Wife – Little Charlie & The Nightcats – Night Vision (1993)
Bloodshot Eyes – Wynonie Harris – King Records (1951)
House Party – The Cash Box Kings – Royal Mit (2017)
Ball & Chain – Big Mama Thornton – Ball'n'Chain (1968)
I Feel So Bad – Andy T Band – Double Strike (2017)
Stack-A-Lee – Archibald – Imperial Records (1950)
Going To California Blues – King Perry De Luxe Records (1949)
Say Hey (The Willie Mays Song) – the Treniers & Willie Mays – Coral Records (1955)
Did You See Jackie Robinson Hit That Ball? – Count Basie – RCA Victor (1949)
The Bases Were Loaded – Frankie "Sugar Chile" Robinson – Capitol Records (1950)
I Put A Spell On You – Screamin' Jay Hawkins – Okeh Records (1956)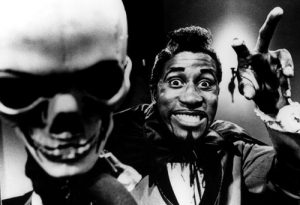 (sign off)
Tag (Youre It) – Little Charlie & The Nightcats – Nine Lives (2005)