Playlist for 9-17-17 – Ray Charles, Pt 1
Every year at the end of September, we celebrate the music of Georgia's own Ray Charles. This year, we've decided to celebrate his birth anniversary with two weeks of music on Route 66.  Here's the playlist for part one. Part Two will air Sunday, September 24, 2017. Tune in!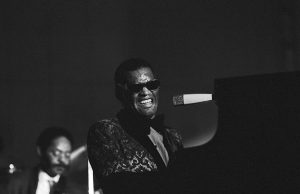 Follow WRFG Route 66 on Facebook
Here's your WRFG Route 66 Playlist for Sunday, September 13, 2017
Hosts: John & Frankie Lee
Birthday: Ray Charles Robinson, known professionally as Ray Charles. He was born on September 23, 1930 in Albany, Georgia.
Song – Artist – Album or First Release (Ray Charles connection)
Birth Of The Blues – Ray Charles & The Count Basie Orchestra – Genius + Soul = Jazz (1961)
It Should've Been Me – Ray Charles – Atlantic Records (1954)
Let The Good Times Roll – Louis Jordan – Decca Records (1946) (The Genius, 1959)
(Night Time Is) The Right Time – Nappy Brown & Kip Anderson – Best Of Both Worlds (1996) (Atlantic Records, 1958)
Moanin' – Art Blakey & The Jazz Messengers – Moanin' (1958) (Genius + Soul = Jazz, 1961)
Blues Before Sunrise – The Maxim Trio featuring Ray Charles – Swing Records (1949)
Careless Love – Josh White – The Blues & Josh White, Vol 2 (1956) (Modern Sounds In Country & Western, 1962)
I Don't Need No Doctor – Ray Charles – A Portrait Of Ray (1968)
Come Back Baby – Etta James – Matriarch Of The Blues (2000) (Maxim Trio, 1949)
Two Years Of Torture – Johnny Adams – One Foot In The Blues (2011) (The Genius, 1959)
Just For A Thrill – Ray Charles – The Genius (1959)
Willow Weep For Me – BIllie Holiday – Lady Sings The Blues (1956) (Ray recorded with Fathead Newman, 1958)
Hit The Road Jack – Omar & The Howlers – Swingland (1999) (Atlantic Records, 1961)
Georgia On My Mind – Ray Charles – The Genius Hits The Road (1960)
Drown In My Own Tears – Aretha Franklin – I Never Loved A Man The Way  Love You (1967) (Written by RC, performed on Ray Charles In Person, 1960)
In The Evening When The Sun Goes Down – Charles Brown – Aladdin Records (1949) (Ingredients In A Recipe For Soul, 1963)
Baby Won't You Please Come Home – Preservation Hall Jazz Band – An Album To Benefit Preservation Hall (2010) (Atlantic Records, 1957)
A Song For You – Willie Nelson featuring Leon Russell & Ray Charles – Live & Kickin' (2003)
I've Got A Woman (live) – Ray Charles – ABC Paramount Records (1966)
The Brightest Smile In Town – The Gregg Allman Band – Playin' Up A Storm (1978) (Ingredients In A Recipe For Soul, 1963)
I Believe To My Soul – Van Morrison – It's Too Late To Stop Now (1974) (What'd I Say, 1959)
Don't Let The Sun Catch You Cryin' – Ray Charles – The Genius (1959)
Ain't That Love – Ray Charles – Ray Charles (1957)
(sign off)
Tag (You're It) – Little Charlie & The Nightcats – Nine Lives (2005)