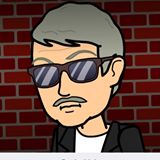 Good Morning Blues  2 – Survive the Drive with Mike

 Mondays 8:00 to 10:00 a.m.
Join Marietta Mike as he helps you survive Atlanta's insane rush hour and arrive at work with a smile on your face.  Featuring the best electric and local blues artists, this is your source for great guitarists like Walter Trout, Joe Bonamassa, Stevie Ray Vaughan, and Jimi Hendrix.  Turn on, tune in, and relax.
And yes, we do take requests – Call Marietta Mike at 404-523-8989.